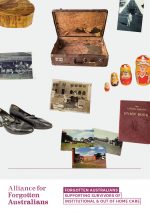 In 2008, AFA produced 90,000 copies of a booklet about Forgotten Australians. It is informative and useful for Forgotten Australians and those who work, interact or relate with them. This booklet can be viewed by clicking the following link it in PDF format.
Forgotten Australians Booklet PDF (238Kb)
You can also receive a free copy of this booklet by post or order a box for distribution. To place your order contact the secretariat on admin@forgottenaustralians.org.au or by phone on 0488 460 646.